For Families
Thank you so much for coming here, finding us and making it to this point.
We want to show you our process of working with Families from beginning to end.
In here you'll find information regarding Our Style, Types of Sessions, FAQ's, Pricing, Booking, and AWESOME Guides just for you!
CLICK THESE GUIDES TO DOWNLOAD
MORE GUIDES COMING SOON!
We feel our style is bold, colorful, and timeless. We believe in capturing authentic images and moments that represent you as a family. We also believe in keeping true to color and giving you a final product that you will look back on and love for generations to come. Each session that we photograph, we take to heart and want to create an experience for you that you will forever remember. From the first time you talk with us until the delivery of your prints or album it should be an experience like none you've had before. As you can tell we like to be out in nature and photograph you on a little adventure. We won't hike 6 miles, but love finding the adventures close to where you live that will represent you and your family perfectly. We usually photograph several different group images, candid interaction, details, couples, and individuals.
We love to be fun and playful with our sessions but we also create images and pose you in a way that makes you comfortable and create something that will look amazing throughout the years. We play your favorite music with our sessions, and help you get comfortable as you usually don't have your picture taken every day.
We can and do shoot film alongside our digital images, which helps us slow down and really focus on creating memorable and long lasting art. We love the color and emotion that comes from film. The process helps us really think about each image we take. Most of the images you see and stand out are film, film is included with portrait sessions.
We want to become your friends and be along to capture your story. Hopefully this information below will help direct you through our process!
Types of Sessions
Our Family Session is meant for families who want that classic, timeless and traditional family portrait. We cover pretty much any group, couples, individuals. This also includes a 16x20 print. Usually done on location, studios are available but are an added cost. We have a few we recommend below.
The Lifestyle Session (in-home, on location) is meant for families who may be on vacation and want us to capture their adventure, or it is also the perfect session for families who want mostly candids with a few posed group images. We can come to your home in the morning while you have breakfast with your family, or while you all hang out in the afternoon at the park.
Our Mini Sessions are meant for young small families, single parent families, or for families who have limited time/budget. This is very quick session where we cover a few different group poses, plus individuals. It's 20 minutes and is only available in the Fall and Spring on Select days/times.
For all our family portrait sessions we will work with you directly to find the best location for your family. Whether it be outdoors in the mountains, at a state or national park, on local or private property that we have access to, or even in your home or a studio we rent out, we will work with you to figure out the best location to accurately capture your family and vision for your session.
We pride ourselves on making sure you look your very best, we do work with you to determine the best outfits possible. We want you to photograph well and to stand out/blend in with whatever setting we may be in. We want to help make it a success for you and have and look your best in the images that will be displayed in your home.
What is film and what does it look like?
We specialize in using film and digital cameras with our sessions, no this isn't video! It's a still film negative that is developed and scanned and you receive a digital edited copy. We can use film with family sessions as it's included at no extra cost if we decide to use it. It's mostly based on LIGHT. Film needs LOTS of light in order to process the way we like it to look, so if it's not looking exactly how we would like to execute on film, then we will just use digital. We will use various film stocks, but mainly Portra 400, Fuji 400h, and Tri-x 400. It can be added on to any other session with an added cost of $100.
Kodak, Portra 400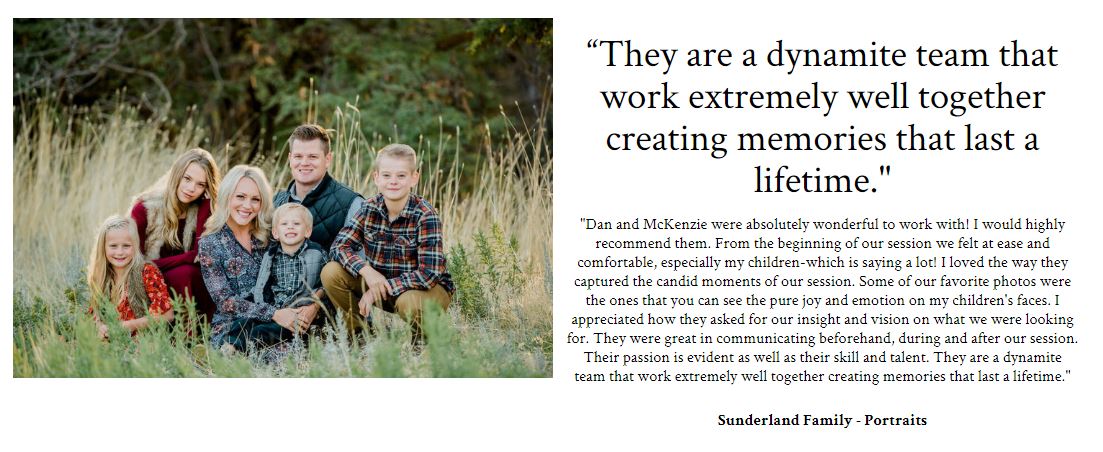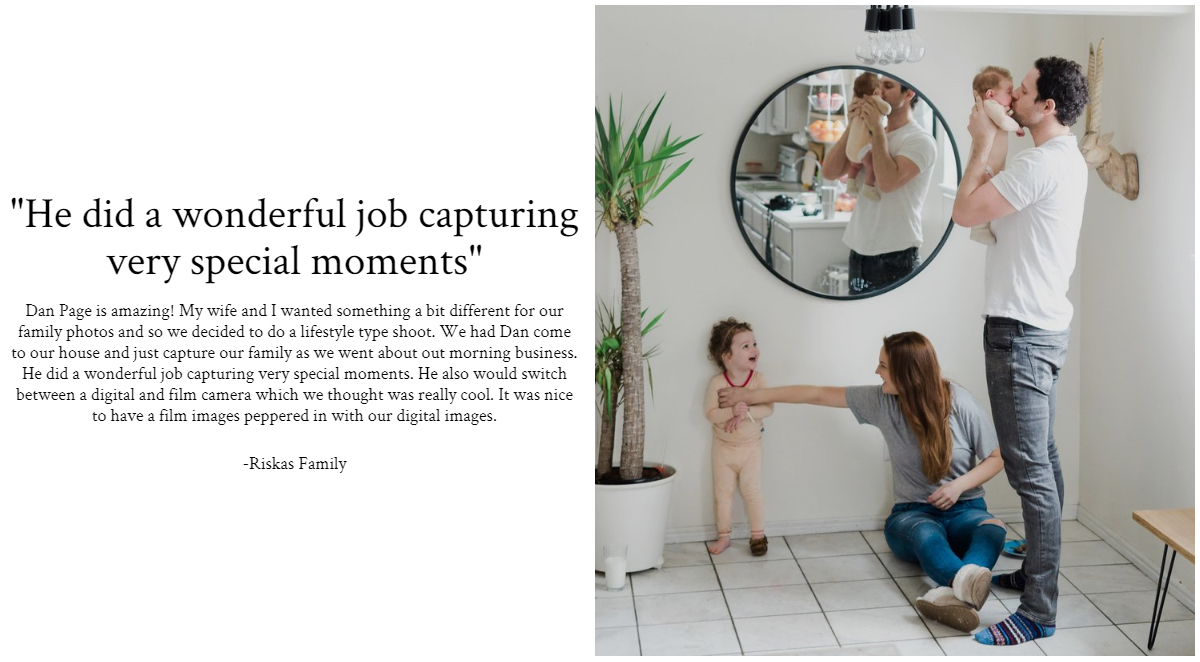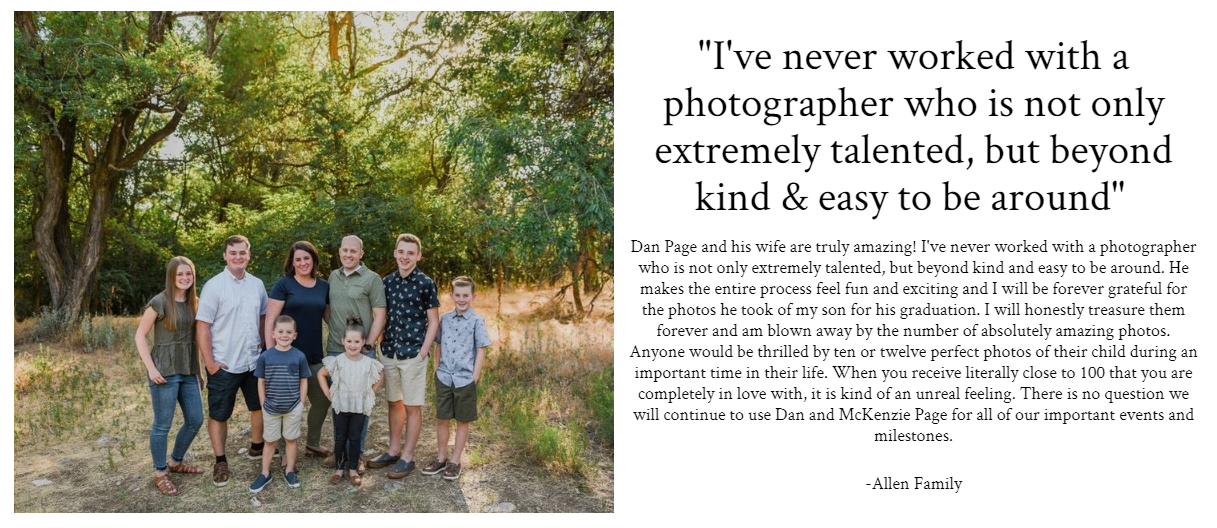 Pricing
Pricing is on collection basis. We have several collections for each session. Please inquire for our full pricing guide detailing what each session includes.
Starting prices are below. Travel is not included. $15/per person past the limits below. Film can be added to other sessions for an added $100.
Family Session $450 (1 hour session)
Up to 10 people, 1 location, 50 images, online gallery, 16x24 fine art paper print, print release, film is included
Lifestyle/Adventure Session starting at $350 (custom designed to fit your needs)
Up to 10 people, 1 location, 30 images, 11x14 print, online gallery (in-home, on location, mostly candid images)
Mini Session $225 (20 minute session)
Up to 5 people (no more than 8), 1 location, 10 images, online gallery, print release (only available on select dates/locations)
Extended Family Session starting at $650 (30 minutes - 1 hour session)
Up to 35 people, 1 location, (images on a quote basis), online gallery, 24x36 print, print release
FAQ
Can we bring our dog or pet?
Yes you can as long the dog, pet is completely under control, responds to commands, and will respond to commands we give it too. We've grown up around dogs, cats, horses, and various other animals and understand that they can be a huge part of the family. But if we feel unsafe, threatened by the animal or the animal remains uncontrolled then we have the right to cancel the session do to personal safety. We have chosen not to photograph any breed of pit bull, no matter how controlled it may be because of past experiences. Let us know if you have any further questions or requests.
Can we bring props?
We love props for lifestyle sessions, which may be anything from food, to a picnic basket, blankets, anything that will contribute to the idea and concept of the session. We don't usually allow props for our family portrait sessions because it distracts from you. Please reach out if you have something you'd like to incorporate and we will let you know if we can make it work or not.
Do you have a retainer, is it refundable?
We do have a 50% of the total of the session as a retainer, it is non-refundable under any circumstances in order to book the date and time of the session. It is due upon booking and the remainder of the payment is due the day before the session. If the session cancels before the final payment is made the retainer may be put towards another session, service, or product within the same calendar year as the original booking.
Can we bring multiple outfits?
We only suggest one outfit, unless your a small family less than 5 and would like to have an outfit change during our family session or lifestyle session. Just because it takes too much time to change and we photograph usually when the light is fading already.
How do you accept payment?
We accept credit/debit through an online invoicing system or cashiers check, or bank transfer. We do not accept cash or personal checks. Tips can be accepted by cash or Venmo (@daniel-page-photo).
How long does it take to get images back?
Most sessions are delivered within a two week time slot from the date of the session. It may take up to four weeks to return images based on the busy season and if film was used, because of development and scanning. But we pride ourselves in fast delivery and strive to always get them to you earlier than is expected.
What is film and do you use it on family sessions?
We use film and digital cameras with our sessions, no this isn't video! It's a film negative that is developed and scanned and you receive a digital edited copy. We use film on a case by case basis with family sessions, if you'd like to add it on, it's an extra $100. We will use various film stocks, but mainly Portra 400, Fuji 400h, and Tri-x 400.
What if there is bad weather?
Unlike wedding days, portrait sessions can and may be moved due to bad, dangerous or inclement weather. We usually move forward if there is less than a 20% chance of rain, snow, etc. We will move the session to the next available day because we want to capture the best light possible.
Does it cost to travel?
It does cost to travel. We do not charge a travel fee for anywhere in Davis, Weber or Salt Lake Counties. Anywhere outside of that a fee may apply. Fees also apply for most forest service land, national parks, or state parks, as it requires us to obtain a permit. We can send you a list of locations once you book and can let you know which have fees and which don't.